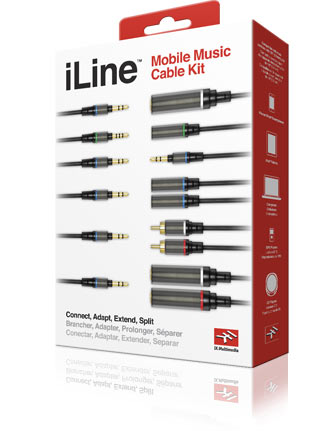 iLine Mobile Music Cable Kit

http://www.ikmultimedia.com/products/iline/
IK Multimedia caters to musicians and people who like music…
Compatible with smartphones, tablets, laptops, desktops and most high-end audio equipment
6 cables in the kit…
1. Mono Output Adapter – Use this to send your stereo output from your device into a mono input device like a guitar amplifier or a mono-input powered speaker.
2. Input Output Extension – Extends the range of your device output jack, including signal input and microphone capability.
3. Stereo Aux – It's a simple, straightforward stereo output extender for sending the stereo signal from your device to a 3.5mm stereo input (female) jack.
4. Headphone Splitter – As the name implies, this one takes a single stereo pair from your device and makes two out of it. Use this to share with a friend
5. RCA Output Adapter – If you want to connect your mobile device to your home stereo receiver or DJ Mixer, this is your cable. It splits the stereo output from your device into left & right mono RCA inputs.
6. Mono Output Splitter – This one is perfect for sending the signal from your device to the L/R inputs in a stereo channel on a mixer. The unique 1/4″ mono female jacks let you use your standard signal cables to freely place your device on stage while running your signal to the front of house mixer.
Color Coding Rings:

Blue: Stereo
Green: Stereo w/input
White: Mono/Left
Red: Mono/Right
24K gold-plated connectors for maximum connectivity in all environments
Carrying case included
Case and cable wraps are weakest link in the set.
Overall value of the entire set is awesome, however, as you can pay a lot for these cables if you go down to your local musicians store.